Can I Use CCTV to Record Meetings in my Home?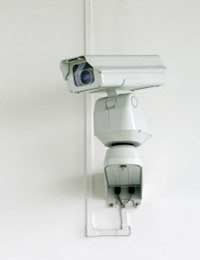 Q.
I have a friend who has CCTV installed inside his house to monitor meetings with social services as he has short term memory problems and this way he can record the meeting and make sure he does not miss anything that is said to him.
Social Services are now stating he must turn his camera off when they arrive, but when he did do this the Social worker then lied about the discussion that took place (she did not know he had done an audio recording) and tried to state my friend was unfit to care for his children - he was able to prove otherwise with the audio recording.
My friend wants to know does he have to turn the CCTV off when the social worker comes into his house?
Social Services have stated unless he turns it off when they arrive they will view this as non complicance and take his children into care regardless.
(Mrs Linda Hinchliffe, 17 September 2008)

A.
CCTV for Domestic Use
According to the Data Protection Act 1998 there is no reason why CCTV cannot be used to record meetings in a person's home. There is a common thinking that domestic use of CCTV does not come under the remit of the Data Protection Act but this is not necessarily the case. This is not true as nearly all recording of personal data including recording images and conversations in the home falls within the remit of the Data Protection Act. However, there are certain exemptions that may apply with this case. According to the Data Protection Act, section 36, there is an exemption. This section states that if the recording is made inside the data controller's (person making the recording) own home then the person making the recording is entitled to do so. The person making the recording also does not need to inform those that he or she is recording the meeting or the fact that they are actually being recorded. The person making the recording also does not have to give a copy to those recorded if they were to request a copy.
Justifying the use of Domestic CCTV
Exemptions can always be overruled in certain cases but a big factor in this case would be justification for the use of CCTV. If the data controller can justify why the recording is needed then this should be taken into account by any regulatory body. As to the manner in which the social services officer has acted there may be certain reasons why recording is not permitted with regards to information on other people involved, for example, children. However, the social services department should be able to provide documented official government information on why CCTV is not permitted on the data recorder's premises during the meetings. It would be in the best interests of the data recorder to contact the senior social worker in this case or a higher lever employee at the social services department to discuss the matter. Another official agency that will be able to give more advice on the matter will be the Citizens Advice Bureau. More information on the Data Protection Act and CCTV recordings can be found on the official government Data Protection Act website.
You might also like...
I have been harassed by my neighbour who is constantly makeing fake accusations she has cameras recording my front and back door I have just discovered she has been watching me online what can I do please someone advise me thank youin advance
Rozie
- 12-Aug-23 @ 11:56 AM
Hi. I am having a serious problem with neighbours opposite my house. They have been threatening and abusive and and said in front of witnesses that they were going to break into my home . The same night my windscreen was smashed on my car outside. The following night all the windows and glass door where smashed at the rear and someone trued to get in . This has all been in the last three weeks. My front door lock has been superglued seven times twice with small tiny steel bolts shoved into the mechanism . The police are aware of all and have once warned the four people living in the two bed terrace opposite. They cannot arrest because no evidence. On top of all this the people have two cctv cameras either side of the front bedroom window on the street . They have clearly trained one of the cameras to look at my house . They watch me going in and out every day or if i speak to a neighbour . They start using eggs and police think they have a catapult. They instantly start with the eggs as soon as i open front door or go to car . It happens most days . They are watching my house 24/7. I have repeatedly asked the police to speak to them about the camera but the police have said they cant do anything . It is making me ill and anxious and i dont know when it is going to end . Please can someone help me . Maureen
Jadorevinrouge
- 24-Nov-20 @ 9:05 PM
I own a drive from the public road into my property, on which is situated six rented houses which I own. A neighboour has a right of way over my drive, to gain access into her house situated on one side. On the other side is a fish & chip shop, with new owners. They do not own any part of the drive but have the right to walk over it from the public highway into their shop as do their customers. They have placed a CCTV camera inside which films through the shop windows. My neighbour, all my tenants, myself and all who use my drive with my consent. are filmed each time they pass the frontage of the shop but never enter it. There has never been any history of unlawfulness outside the shop. I have asked the owner to relocate his camera so that it films customers inside his shop as they enter. He has refused and also has refused to provide copies of CCTV film taken, or details for his reasons to film my drive and part of my neighbour's garden. What are my legal rights as this is filmingfor commercial purposes?
Cyw
- 13-Aug-19 @ 4:43 PM
Due to over 12 months of gruesome and dangerous behaviour we have installed seven CCTV cameras outside our home at the suggestion of the local police to catch the culprit who we are 99% sure is the perpetrator since we have already caught him three times tampering with the CCTV cameras on our land. He is in fact our neighbour and has waged a war on us for well over 12 months because he thinks we reported him for erecting a 14foot shed next to our fence.Does anyone know whether it is a criminal offence for him to do this in the UK because we are not partial to squirrels being cut in half and left on the doorstep or dead fox cubs and magpies being left in our garden. One squirrel was found hanging by its neck from a tree on our property and our water butt has been poisoned along with dirt and slurry being put in our bin and plants destroyed. He is a vile man but not one neighbour will speak out against him because he is ex army and some are actually scared of him.
Truthteller
- 14-Dec-15 @ 11:47 PM
Can i audio record social service child protection conferences with their knowledge?
cookie monster
- 8-Oct-14 @ 7:47 PM
I had a private 25th anniversary party in my garden from 2 in the afternoon until 10:30 at night. My neighbour videoed some of my party from his bedroom window saying that the police told him he was within his rights to do this as he felt we were making too much noise. I had several children in my garden under the age of 10. Is this not against my human rights and also the law.Sharon Banks
shazbev
- 5-Sep-12 @ 6:08 PM
i have been covertly recorded in my own home by my employer,is it a crime or unlawfull.i have evidence of this by the way of photographs and cctv. regard john
pops
- 22-Oct-11 @ 2:10 PM
My neighbour constantly takes photos and videos of my actions and those of contractors etc (lawful) which are happening on my own land. These are then distorted to make them look as if we are causing damage etc to "their" property eg trimming my trees and hedges turns into cutting down their trees and hedges. Inspecting my ditch is spying on them. These are then used by them to make complaints to all possible officials - police council Environment agency etc etc This has gone on for over 10 years and the police refuse to action my complaint of harassment. I have tried to sell my property over 3 years but failed. What can I do ?
Netty
- 19-Jul-11 @ 7:42 PM
I had a similar issue, whereby I voice recorded Social Services in my home, when they discovered this they forced me to sign, under threat, a declaration to state I would not record them any more, I believe this to be a serious breach under the prevention of harassment act, they threatened 'if you do not agree and sign this declaration we will cease contacts between you and your son, as it demonstrates your inability to co-operate with us'. does anyone have any further input regarding this?
Welshicle
- 18-Jul-11 @ 8:19 PM