Your Medical Records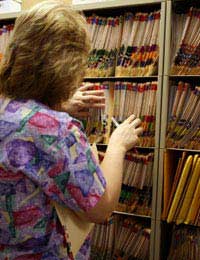 What do your medical records say about you? Who sees them? How are they shared? Are they open to misuse? From typing errors to lax security even the smallest slip-up could result in the inadvertent abuse of your records. And the government's new scheme to digitalise medical records is causing widespread concern. Should you be worried?
Your Medical Records
The NHS is launching a controversial new scheme this year, intending to upload its entire patient database to a central electronic system called 'Spine'. Patients will be offered the chance to opt-out of the database, although ministers are hoping that to put an end to prehistoric paper systems. The new system will make your medical records available to thousands of medical staff.
Why the controversy? Well, the Information Commissioner last year stated that more than 300 journalists had obtained private information from government records – due to poor security and insignificant penalties. Campaigners are concerned that the government will not put enough security in place, and the privacy of around 50 million patients could be undermined. They're also concerned about errors in patient records, after a local councillor discovered that she had been labelled an alcoholic – a simple typing mistake.
Who can View my Medical Records?
The main benefit of the new NHS database is that it will enable paramedics and hospital staff to access your medical information in an emergency. This is thought to be especially beneficial for the elderly, who may not have close family on-hand.
Other people can view your records, too. Insurers can view your medical records if you're applying for Critical Illness insurance – if they contain something you haven't disclosed, your policy could be void. The police can apply for a court order to get access to your medical records if they have due cause to do so. If information on your medical records is believed to be important to the general public's safety, then a court will give permission.
Medical Records - Your Rights
Patients have a right to see all records held on them (Data Protection Act, 1998). However, medical professionals are entitled to withhold your medical records if:
They contain information that might cause harm to you
They contain information about a third party (this can be removed)
You are applying for someone else's records (unless you have a letter of consent).
Your medical records are held at your GP's surgery, which will usually allow you to read them if you ask politely. If there is a problem then you can make an official request in writing, which your surgery or hospital is obliged to answer within 40 days. And if there is a further problem with this, you can complain – first to the NHS (ask for their complaint leaflet), then to the Health Ombudsman, and finally to the Information Commissioner.
When the 'Spine' system is rolled out across the UK, patients will receive written notification. You will be given eight weeks to respond to the letter. You can take one of four actions:
Permit your records to be uploaded (there is no need to write).
Object to the uploading of your records.
Place restrictions on the people who are able to view them (i.e. GPs and nurses).
Place restrictions on the information which is uploaded (i.e. you can ask for details such as abortion or HIV tests to be removed).

You might also like...

Incorrect information from somebody else's arrest has been used on my doctor's records

Mcflys

- 8-Dec-18 @ 9:42 AM

I had my medical records rifled through and altered by a GP& his mate GP in a case of a nurse stealing drugs and poisoning members of the public and the police too busy avoiding crimes of the GPS was asked to help with forensics to get the police to do their job. Instead he did the opposite trying to make sure the nurse got away with it. Maybe one day we'll do away with creapy doctors & & all their routine lying colusion & coverup & replace them with expert systems which are already outperforming them

ProfX

- 12-Nov-18 @ 8:24 PM

Hi can my medical records after a mental illness stay be shown to child protection without me being informed or without my consent?

Alz

- 31-Oct-18 @ 4:39 PM

I got section by a racist corrupt transport police officer for no valid health rasons, the police stated she was doing it because I wasnt allowed to mention one of the people involved in the harassment I was trying to report to the police.The detention was illegal, corrupt,vindictive and done on purpose, I was assaulted in a room with 4 police officers for no valid reasons than abused stabbed with needles and tortured under judith chapmans SS squad. So the police wouldnt get sued for this unlawful detention they asked a doctor i never spoke to nor was she at the police station, she lied on my NHS records that I had some serious mental health episode on the day I was detained, the truth is that I didnt and despite seeing psychologist there after and being diagnosed with acute stress. The doctors have refused to delete that fabricated lie so I cant sue the police nor social services in leeds for the horrific abuse they put me through. That lie has kept me in the system even though Im not supposed to be and the leeds ambulance have been asked by the police to harass me for four years about that incidence going as far as traumatising me daily at our home with sirens showing up in town harassing me. We wrote to Jeremy Hunt the head of NHS about how police in leeds are able to manipulate medical staff to cover up police misconduct patient profiling.That NHS lie on my records has ruined my careers allowed some corrupt ss to show up at our home intimidating me because an advocate tried to help me find out who had lied on my medical records!Its left me in fear since the police can missuse this lie to discriminate and control me, coercive control and lying on medical records is illegal so why does the NHS make it so difficult for NHS patients to amend and delete bullocks writen by fraudulent doctors on their records even with the correct diagnoses on the records? in Wales they have a systrm called PATIENT KNOWS BEST this allowes patients to have things amended. How many corrupt police and ambulance crew get away detaining women harmning them and than lying on their records, how many people are locked up in england in a ward due to does lies!!!???

Rodene

- 30-Oct-18 @ 5:04 PM

My GP surgery has shared private information with another organisation.I have full NHS opt-out confirmed in writing.What's more, the information was wrong and has caused me much distress and embarrassment.I cannot find a solicitor who deals with data breaches of this nature.I have started a complaint with the ICO but I have to wait 40 days first.What recourse through the law do I have?

Walnut&Coffee

- 25-Oct-18 @ 3:29 PM

I have gained a copy of my medical records this has maid my self so angry . There has been a problem a mix up.I am a foster parent this could effect my life and the childrenI care for . It had said that I take drugs and drink way to much ???? This is all rong the dates are from 2011-2012I have contacted my gp and all they can say is that they could put belived to be rong at this side . I don't think so there has to be something that they can do as it figures this information belongs to my sister

Neccie

- 9-Oct-18 @ 1:19 PM

my previous heath visitor recorded unrelavsnt some intimation was mistook communication caused and how can I requirest for mend it , many thanks !

hit

- 24-Aug-18 @ 9:58 AM

Hi my need some information about my medical history as my doctor sent my whole medical history to esa citizens rights and tribunal without my permission

Trish

- 20-Aug-18 @ 10:50 AM

@Londoner - you would have to take it up with the surgery directly. There isn't really anything else you can do. I don't think you can make a claim.

Rosoe

- 31-Jul-18 @ 12:25 PM

I'm really sorry that previous advice message didn't even make sense properly.my phone has predictive texting, I hope some one gets the jist of it and gives me advice

Londoner

- 30-Jul-18 @ 9:32 PM

Hi, I would like some advice from anyone who reads this, my husband and I share the same surgery recently he was prescribed the same medicine as me unbeknown to me,because e works nights and because of the surgery times I have to call her early in the morning to get an appointment. So I called the surgery and asked for a appointment once the receptionist had taken all his info she said a phone call would be better, he hadn't had a call back and asked me to chase it up twice, theydidn't call, the receptionist even asked is for you. The next day I made a appointment for Home and complained to the receptionist the day before,so anyway my husband goes to his appointment and is accused by the doctor for giving me the medicine and discussed my medical history with him, if he had given me the medicine then I told wouldn't want any advice but I feel dee Let let down? There my medical records what do I do next?

Londoner

- 30-Jul-18 @ 9:29 PM

my files have been shared without my consent what can or should i do?

jw

- 26-Jul-18 @ 12:29 PM

Is there any way that someone can find out if their name has been recorded in someone else's medical records. For example, someone has suffered an injury and goes to their GP and the GP asks how they incurred the injury to be told - Fred assaulted me. Is Fred entitled to any information recorded on the patient's file that mentions him by name?

pewe

- 20-Jul-18 @ 10:18 AM

The DWP Child Maintenance Service asked me to justify my Ailment and reason for long term sickness. Can Companies demand legally you verbally divulge medical information?

Bimble

- 19-Jul-18 @ 6:47 PM

@cindy - I don't think they're going to read 'all' your records - they don't have time between patients. It's up to you to fill in the details - I imagine the doc just gives your records a quick glance.

Laurie

- 9-Jul-18 @ 9:41 AM

on recent visit too my doctor he did blood test then wanted another one for the menopause all in my records i went through early menopause in my late 30s does doctor never read any of your file before they see you,never get regular doctor

cindy

- 8-Jul-18 @ 7:14 AM

Sorry if we're going over old ground here; I have been with the same private opticians since the mid 70's. The owner recently sold the business and I have swapped to a new optician. I have requested a copy of my full history from the new owners of my original opticians. They have refused and said that they are not legally obliged to do this; all they are prepared to send me is a copy of my latest prescription. Is this the case? (surely not). They said that they could pass them on to my new optician. They also said that it would be meaningless to me as i am not medically trained (which is true but rather patronising). How do I get them to send me a copy of my records?

Ferrety

- 4-Jul-18 @ 11:19 AM

@Lea - I don't think she can without permission.

Oggui

- 25-Jun-18 @ 2:09 PM

I have a friend who work's behind the desk at my surgery. Can she look through my medical history? As it is confidential and even though she is my friend I wouldn't like to think she can look through my files.

Lea

- 23-Jun-18 @ 10:33 PM

I recently applied for a life insurance policy through a broker with zurich life.The broker was adamant that when i signed the form access to medical report that I tick the box I do NOTwish to see the report before it is returned to zurich as this delays proceedings but due to my GP getting my records wrong in the past Iinsisted that I see the report before it is sent to zurich. I ticked the box I DO want to see the report before it is returned to zurich. This morning I receive a call from the broker saying that zurich has declined my policy based on the medical report they have received. At NO time has the GP ever consulted me about the report or made any attempt to show me the report despite my clear instructions. I feel disgusted at this and an invasion of privacy and at a minimum a breach of the data protection act. I am about to seek legal advice before I go to the expense of a solicitor I just wondered if anyone had any views ?. Many thanks Jamie

jacali458

- 22-Jun-18 @ 12:27 PM

@judo - I think if the court orders it in a child access case then social services can hand information to the courts. Don't know if that is relevant or helps you at all.

BeckZ

- 16-Apr-18 @ 2:30 PM

Our daughter in law sent us some doctors letters trying to prove she had lupus but in fact they proved otherwise now she is saying they are confidentialand we have to delete Them or she will get us in trouble is this possible

Lee

- 15-Apr-18 @ 12:25 AM

social service have got hold of my medical records without my consent have they broken the law by ding this there is nothing bad on them but im not happy they can find out things about me i told my doctor

judo

- 14-Apr-18 @ 11:53 AM

@Xt4mv - only if your ex is given permission to retrieve your records could he. Anyone who accesses records is logged. Massively sackable offence and more.

EllieU

- 9-Feb-18 @ 12:29 PM

My abusive ex boyfriend is a paramedic. We split up years ago but I'm concerned that he could access my medical records and find out my address and private information. Is this possible?

Xt4mv

- 6-Feb-18 @ 6:09 PM

Can a private doctor that I made a appointment with get my medical records from another Dr without? my consent.

Spot

- 8-Jan-18 @ 10:14 PM

Anny - Your Question:

My boyfriend is a nhs dentist working in another town and he knows a lot of other NHS professionals, he made a statement the other day about being able to access my medical records. Can he do that without my consent or in any other way?

---

Our Response:

Health records are confidential so you can only access someone else's records if you're authorised to do so. To access someone else's health records, you must: be acting on their behalf with their consent, or have legal authority to make decisions on their behalf (power of attorney), or have another legal basis for access, please see NHS link

here

, which will tell you all you need to know.

YourPrivacy

- 19-Dec-17 @ 9:47 AM

My boyfriend is a nhs dentist working in another town and he knows a lot of other NHS professionals, he made a statement the other day about being able to access my medical records. Can he do that without my consent or in any other way?

Anny

- 18-Dec-17 @ 8:04 AM

@JP - Much depends upon what your landlord wants your medical records for. As a rule your landlord cannot ask your GP for a medical report on you without your knowledge and consent. You do not have to give your consent. If you do agree, you can ask to see the doctor's report before it is sent to your landlord. Complain directly to your landlord first - they should have a complaints policy that you can follow.

JimM

- 4-Dec-17 @ 3:40 PM

Two years ago I rented a property through a letting agent, two years on the owner has asked me to go to my doctor and provide him with my medical records. Where does the law stand on this and to whom do I makecomplaint?