Using Wireless Connections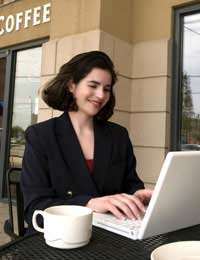 What's your Wi-Fi risk? If you connect to the internet using a wireless modem read this first. Wireless connections are cheap to buy and easy to set-up, but security is disabled by default. Yet they pose a significant risk to your privacy and security. Read our guide and act now to protect your wireless connections.
What are the Risks of Using Wireless Connections?
When you use a wireless connection, your network is at risk from hackers. Because the connection is transmitted wirelessly, anyone within the range could obtain access to your network, including your shared files and internet activity logs. If you connect to the internet wirelessly, you're at greater security risk than someone connecting via a wired modem.The same is true for laptops which connect via a 'card', particularly if they are used in a public wireless connection area (also known as a Wi-Fi Spot).
What could happen? At one end of the scale, neighbours could access your internet connection and surf for free on your bill. You wouldn't know unless you have a download limit from your supplier. At the other end of the scale, hackers could connect to your home network or laptop, and reach highly confidential information. If you use online banking services, for instance, then there could be a cookie on your computer which contains security information. It's all too easy for an expert hacker to get at very personal information and use it fraudulently.
How do I Secure my Wireless Network?
The most important ways to secure your network are by using encryption and setting good passwords.
Using Encryption
Encryption is an extra layer of security which makes your files and information more difficult to access. Depending on the connection and products you use, you should be able to set an encryption key (check the manual for instructions). Choose 128-bit encryption, which will require a 13-digit key (or code), made up of letters and numbers. After setup, this key is not entered by the user, but by the computer accessing the connection – you'll have to type it in for all computers and laptops linked to your network. Change it often. Although adding a key improves your network's security, a hacker could still crack it, given enough time and patience. Another method of encryption, WPA, links every digit in your key code to millions of further digits (don't ask how), but this is not yet widely available.
Setting a Password
Passwords that include your name, street address or birthday are among the easiest for a hacker to guess. When you set a password for your home computer and laptop, it has to be simple enough for family members to remember, but difficult for a stranger to take a guess at. Hackers sometimes use programmes that attempt to crack passwords by randomly combining words from the dictionary at very high speeds.
So you don't want a password that contains dictionary words. In addition, passwords with random numbers between the letters work well: too many people choose passwords like myname79.
Numbers therefore should feature in your password somehow. An ideal password would be something like this: LN1D1W2MA. But what are your chances of remembering that long string of letters and numbers? Take a tip from the security professionals, and try this method for creating a password that's easy to remember, but hard to guess!
The Password Generator
Start with a line from your favourite book, song, or film. If your favourite book is Rebecca by Daphne de Maurier, the line would be: "Last night I dreamed I went to Manderley again." Now condense it to form your password. Take the first letter from each word: LNIDIWTMA. But this doesn't have any numbers in it. Fortunately, three of those letters can easily be translated to number form. First swap the 'I's for number 1s. You can swap 'to' for '2' (and, if you had them, 4 for 'for', 8 for 'ate', and 5 for 'S'). This now gives you a good mixed-up password: LN1D1W2MA.
Other Actions to Take
To further improve your wireless security, take the following actions:
Put the modem as near as possible to the main computer, and as far as possible from public areas – making the access area more limited.
Give your home network a name that isn't easy to guess.
Unplug the modem when you aren't using it.
If you're using a Wi-Fi spot, make sure you have anti-virus and firewall software installed.