Facebook Security Tips to Keep Your Details Private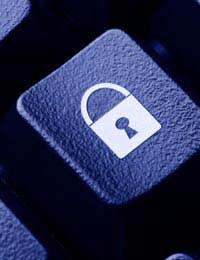 There's a certain level of confusion about Facebook and its security, but there's no need to believe every news headline that you read. There are ways to make Facebook a safer place to spend your online time; it just might take a few tweaks!
Keep a Close Eye on Facebook Privacy Settings
The number one thing to remember with Facebook is that it's constantly changing and evolving so it's worth keeping an eye on new features and regularly reviewing your settings just to make sure that any recent updates haven't reset your privacy settings.The main privacy settings on Facebook are found under 'Account | Privacy settings' in the menu that's at the top-right corner of the page. You can access and change most of your account settings from here, check what your current privacy settings are and you're given options to change them if you need to.
On the 'Privacy settings' page, you can see three quick privacy levels that you can set up with just one click of your mouse. The options are:
'Everyone',
'Friends of friends' and
'Friends only'.
The 'Everyone' setting is inadvisable, as this basically means that absolutely anybody can see your Facebook page, contact details, photos and updates. This is the setting that most uninformed news journalists assume that we all have our account set to, but in reality most people have wised up to the security issues with Facebook by now and changed.
'Friends of friends' isn't a great idea either – all it takes is for a friend to be prone to collecting complete strangers on their friends list and your details are visible to a whole group of people you have no control over.
'Friends only' is recommended by most people who don't want their information splashed all over the Internet, but you'll still have to tweak it.
Connecting on Facebook
The next tweak to your account affects who is able to contact you through Facebook. Choose 'Privacy settings', and then 'View settings' under 'Connecting on Facebook'. This shows you the type of information that people can see about you, along with the ways you can allow people to find and contact you. If you're happy to receive messages from anyone, choose the 'Everyone' option from 'Send me messages'.
You can choose to keep work an education details private, by setting them to 'Friends only' and you could also prefer to scale down 'Friend requests' to 'Friends of friends' or 'Friends only', but this limits any new connections.
Customise Your Settings
Don't take the easy option and let Facebook choose its 'Recommended' privacy settings, or you could leave important details like relationship status and date of birth available for all to see. Go in and click 'Customise settings' to choose a privacy level for any information you want to share, and your basic contact details. Check that you've set it correctly by clicking into 'Customise settings' under 'Privacy settings' and hitting 'Preview my profile' – this lets you see what anyone else, not on your friends list, can see about you.
You can also see how your profile appears to a specific person on your friends list by entering their username in the box marked 'Preview how your profile appears to a specific person'.
Controlling who can Find you on Facebook
If you don't want to show up in a search, set all your security levels to 'Friends only'. If you want to see who can find you, go into 'Account | Privacy settings' and click 'View settings' under 'Basic directory information' and it will tell you who can find you in a search.
Search engines like Google are set to be able to find your Facebook profile by default but you can change this if you prefer not to be 'Googled'. Head back into the 'Friends only' and that stops your profile being picked up by search engines. If you want to make sure your profile is private enough, go into 'Privacy settings' and find 'Edit your settings' under 'Applications and websites'. By the section 'Public search', select 'Edit settings' uncheck the marked 'enable public search' box.
Places
Some people use the 'places' function from their mobiles so you can see when they check in to various locations. If you don't want all and sundry knowing that you've just gone to the pub, you can choose the 'Places I check into' setting by going into 'Privacy settings' and again changing it to into' to 'Friends only'. You might also want to uncheck the 'Include me in people here now after I check in' if you want to stop other people who've checked in nearby from seeing where you are.
Friends lists
Be selective on who gets to see your information by creating friends lists. This stops work colleagues or family members seeing certain things you might not be comfortable sharing! Go into 'Friends' in the left-hand column on the Facebook home page, and click 'Edit friends'. Choose the 'Create a list' option, pick a name (e.g. 'work mates') and choose the friends you want to add. Then click 'Create list'. Should stop your mum seeing what you were up to at the weekend – or your boss finding out you were throwing a sickie!
You might also like...