How to Browse the Internet Anonymously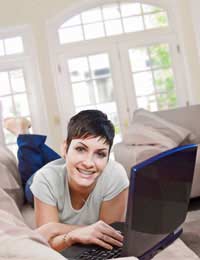 Is it possible to browse the internet anonymously? Do you really need to protect your information while surfing? And who's watching you anyway? Here is our guide to maintaining your privacy while you surf.
Why Browse Anonymously?
Although we usually don't realise it websites and servers continually monitor our online movements. This can include information like IP address, search terms, password details and login times.
Cookies are sometimes created by certain websites; these small files are embedded on your hard drive and used by the website to recognise you on your next visit.
Although the effects are minimal, this small invasion is unnecessary and relatively easy to prevent. Preserving your privacy prevents outside companies from obtaining personal information, which means you are at less risk of fraud and loss of privacy.
How do you Browse Anonymously?
To browse anonymously, you must surf via a proxy server or a VPN system. When you use a proxy server, the information that you send (personal information about your computer, plus search terms and URLs visited) can be altered or disguised by the server. Here is a summary of some common types of proxy server.
Cached Server: If you use a Cached Server, then you will be served information or websites that have been requested by other users. The Server stores popular sites and searches, making them available to you when you request them. Try: Squid Cache.
Anonymising or Anonymizing Server: This type of server anonymises your information before passing it on; it's a sort of filter to protect your privacy. Anonymising search engine proxies are available. Unlike most major search engines, these do not retain identifying information about you (your IP address or search terms). Try: Private Proxy.
Open Proxy: This is a resource that hides your IP address when you connect to a website using the server. It's a bit like an Intercepting Server, which is usually used in businesses or schools, giving the entire network just one IP address for increased security. Unfortunately, spammers are able to use this type of proxy to disguise their IP addresses and send out viruses, so Open Proxy connections are refused by some major sites and servers. Try: Privoxy.
Reverse Proxy: This proxy is installed at the other end of your connection – it's used by websites and servers to improve security. If you log on to a major ecommerce site, for instance, a Reverse Proxy might manage traffic and divert you to one of the site's less busy servers. When you enter your credit card details, the Reverse Proxy (indicated by an URL of "https") encrypts the information, offering security to you and the supplier.
Another common way to secure privacy online is by using a Virtual Private Network (VPN). This is used by many big businesses, particularly those with offices around the country or employees working from home. It is more secure than the traditional, password-protected Intranet, and cheaper than the Wireless Area Networks. Connections can be made remotely, and they are encrypted for security – which allows private information to be securely sent over a public network. At home, you can set up a VPN to share files between two computers which connect to the internet.
You might also like...