MP3 Player Privacy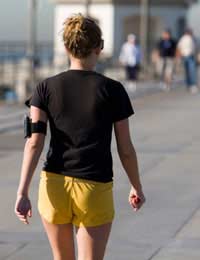 MP3 players, essentially micro-computers capable of storing many megabytes of information, pose a growing privacy threat. The Home Secretary is so concerned that he's asking manufacturers to incorporate security measures – like fingerprint access – into future models. But seriously: what are the risks, and how can they impact your personal privacy?
How can MP3 Players be a Security Threat?
MP3 players can be used by privacy criminals in a number of ways, and new methods are being developed all the time. One Manchester hacker plugged his MP3 player into the back of a free-standing cash machine and recorded customer details as they typed them in, then enjoyed a £200,000 spending spree on his profits. Similarly, American hackers have used their MP3 players to upload, store and sell banking details. Of course these cases are very rare. Your MP3 player is more likely to contract a virus or simply get stolen, complete with personal information.
How can MP3 Players Pick up a Virus?
MP3 players can pick up a virus during their manufacture or subsequent use. In fact they can pick up a virus just like your PC can, through the upload of videos and song files. The first iPod-only virus, Podloso, can disable certain functions and cause some files to refuse to open. A fast food chain in Japan was forced to withdraw a large number of MP3 players because they had inadvertently been supplied with Spyware already inside them. The particular form of this privacy-invading software uploads itself to a PC upon connection, tracks the user's web movements, and transmits the information to criminal hackers.
Do you use an MP3 Sports Kit?
Brand new sports kits are being sold as accessories for MP3 players, which will track your run or workout and give you information on calories burned, distance run, and so on. But new research suggests that these kits are made available without information about the associated risks – making users targets for thieves or stalkers.
A 'sports kit' consists of a sensor and a receiver. The receiver is attached to your iPod, while the sensor goes onto your shoe. The sensor transmits information continually, allowing the receiver to give you stats on distance and speed. So far, so good; but research tests unveiled a flaw in the design that could pose a dangerous security threat. The signal transmitted to the receiver is an unencrypted one; it's worryingly easy to use a similar receiver (or build one) and pick up any signal in a certain radius. Anyone on good terms with the technology could subsequently sit in Hyde Park and collect the precise locations of every iPod jogging around the grounds.
How Should you Protect Your MP3 Player?
To protect your player from viruses, only plug it in to your own computer, and use virus protection software. MP3s can only pick up spyware or infections through connection to a computer, so the better protected you make your PC, the better protected your MP3 player will be.
Protect your computer data from hackers when you use online sharing sites – make sure that you only share the files you want others to see. (Windows file sharing information here.)
Make sure you upload the latest software and security updates for your specific player.