Disposing of Personal Information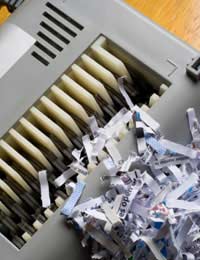 Identity theft is the UK's fastest growing crime. And yet hundreds of thousands of Britons still throw out their bank statements in the rubbish. All the fraudsters need could be right outside your house. What are you doing to protect your information? It's time to make a change.
Information on Paper
You probably receive hundreds or even thousands of pieces of paper in the course of a year. It's no longer simple disposing of these: you'll want a pile for recycling a pile for the rubbish, and now another pile for safe disposal.
Let's talk shredders. You can pick up a cheap home-office shredder or you can invest in a fancy, cross-shredding machine (for extra security). For less than £10 you can set up a personal shredding centre for yourself and your family: and here's what should go through the machine before going out for the bin-men:
Bank statements
Anything printed with your address (including the top leaf of a catalogue delivered to your home, or the label on your favourite magazine)
Anything printed with your name
Envelopes addressed to you

Printed emails
Anything with your signature
Legal, financial, insurance, medical, holiday and work paperwork.
Information on Your Computer
To any potential fraudster, whether they want to play a prank or steal your life savings, your computer is a gold mine. It stores certain valuable information that you must take care to store and dispose of properly. Take precautions to keep your computer physically safe – lock the study door, keep windows closed – and also to maintain the information within it.
Keep sensitive and financial documents in an encrypted file on your hard drive, or remove to a flash drive.
Don't allow your internet browser to store passwords.
Delete cookies and browsing history at least once a fortnight.
Set a password to access your computer. And don't keep it on a sticky note attached to the screen.
Information on Your Hardware
Your mobile phone, MP3 player, and your Blackberry are all prime targets for fraudsters. PCs that are improperly disposed of have been found in Africa, where unscrupulous users have no hesitation in selling on the personal information. When the time comes to replace your hardware, take measures to protect yourself.
PCs: Your old PC must be formatted and 'cleaned' before being taken to the tip. If you don't have an expert on hand to clean up the hard drive, you can hire a specialist to do this. Some companies will reformat your PC on your behalf, and some will dispose of them too. If you're trading-in, make sure the company you use will get rid of your old computer responsibly – not just deleting your information, but disposing of the hardware in an environmentally friendly manner. If you can't afford to use one of these services, a last resort is taking a hammer to the hard drive.
Mobile phones and Blackberrys: Clear the contact book, messages, pictures, and videos from your phone, and remove the SIM before returning to the manufacturer. Mobile phones are either taken apart and recycled, or refurbished for use in other countries. If the latter, it's important to ensure that your mobile leaves your hands without any sensitive information.
You might also like...