Privacy From Google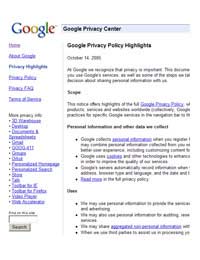 Do you place unlimited trust in Google? When you use a search engine certain personal details are stored by the server. What exactly do they know about you from your daily searches? And is Google really "the biggest invader of privacy on the planet"?
What Personal Information is Stored?
Today, you want information about a holiday resort you saw on the television last night. You hit Google. Later, you need to order some flea treatment for the dog. Back to Google to find a good price. Your credit card statement arrives in the post, and you decide it's time to swap over to one of those 0% interest deals. So you Google it.
Behind the scenes, Google is quietly gathering enough information to create a detailed profile on you and your family. In just one day it knows you're planning a holiday abroad, you have a dog and you're looking for a credit card company. And tomorrow it will gather even more information. In addition to your search terms, Google records your IP address (unique to your PC) and the internet browser you're using.
Have you ever searched on your own name? The profile is complete.
Why do they Need my Personal Information?
It's not just Google – being the biggest search engine unfortunately makes it the biggest target, but they're all at it – so switching engines won't protect your privacy. Search engines gather your information for one key purpose, which is to improve the service they offer you. Until recently, they were entitled to hold on to this valuable information, and to pass it on – all in the name of research, of course.
How am I Protected?
Under pressure from privacy groups, Google recently (2007) announced a new Privacy Policy. Instead of hanging on to your personal information indefinitely, it will now use it for 18-24 months, and then anonymise it (removing any personal identifiers). Why 24 months? The European data retention laws require companies to maintain data for a certain amount of time, depending on its type, although there is some dispute whether this includes web logs.
What is the Threat to my Privacy?
At this point we should make it clear that Google, and other search engines have no ulterior motives in gathering your information – it's all used to identify search habits and improve your service. Privacy experts are concerned that the information is insufficiently protected, which means that hackers could abuse the data or researchers could connect up your details to form a very personal picture of your lifestyle. All this is enough to make the most evangelical Google fan a little wary.
Concerned About Your Privacy from Search Engines?
Here's what you can do:
Delete Google's cookies from your computer. To identify you, Google embeds a 'cookie' on your hard drive – sounds delicious, but it isn't! The cookie stores your Google User ID number, which is linked to all of your searches, your IP address and your browser. Find and delete this cookie and, although Google will create a new one for you as soon as you return to the site, their records will not stretch back quite as far. Do it now, and keep doing it on a regular basis. (Don't know where to start? In your internet browser, click on 'Tools' and look for options to delete your browsing history and cookies.)
Choose a search engine that is not linked to your personal email account, your home ISP, or any other services that you use. For instance, if your email account is at Hotmail, search on Yahoo. This is a way to ensure that no one group holds too much personal information. Don't search your own name or address, either – or do it solely on an obscure search engine!
If you're really worried, there are services online ('anonymous proxy sites') that anonymise your searching. For a monthly fee you can access search engines VIA their private website, which keeps your own personal details, IP address and connection information completely secure.
You might also like...