Privacy When Internet Shopping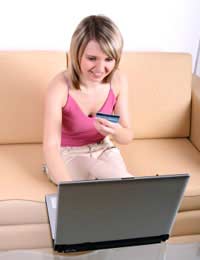 Are you an online shopoholic? Read this first. Handing out your email address falling foul of an insecure server, or forgetting to tick the box for 'no further communication' can all pose threats to your privacy. Unfortunately, if you succumb to the charms of the worldwide mall, these are all things you'll do on a daily basis. So how can you protect your privacy in this vulnerable environment?
Is the Site Secure?
When you next click through to your favourite shopping website, look for two signs. Firstly, you should see a logo for the secure processor which is used by the site – like VeriSign or Worldpay. If it's a name you've never heard of, then search online and check it out.
Secondly, any pages where you provide personal or financial details should have an URL which begins with "https" - the extra "s" stands for "secure". This indicates that the transaction is encrypted, protecting your information as it transfers from your computer to the shop server. This extra layer of security isn't a 100% guarantee, but it's a world standard – and the minimum you should expect.
Giving out Your Email Address and Details
Now you've ascertained the site is taking reasonable precautions to guard your privacy, go ahead and browse. When it comes to creating an account, be careful. It's vital to keep a close eye on your email address – retailers sell their customer lists on and on, so it could travel further than you think. It's an excellent idea to create a new email address for exclusive use on shopping sites. When you visit a new online store, pause to read their Privacy Policy – and patronise those who promise not to sell your details.
When you're catching up on the latest trends or PC games, take equal care. Never post your main email address on shopping forums. Online spiders (like the robots that scour content on behalf of Search Engines) can be programmed by hackers to collect email addresses. And don't think your email address is safe in the hands of an online store, either. Hackers can reach ecommerce databases, and several big names have been guilty of losing customer details in the last few years. Nobody will take as much care with your email address as you will.
So if you are asked for an email address while shopping, take two precautions. Firstly, give out a special 'shopping' email address, and secondly, tick the box that stops the company from selling your email address to related suppliers.
How can I Protect my Privacy While I'm Shopping?
Print out this checklist and use it whilst browsing:
When you find a new shopping site, check it out cautiously. Where is it based? Read the 'About' section and make sure there is a postal address. How long has it been in business? Are transactions secured by a well-known source?
When you do place an order online, check for the security icons: a padlock at the bottom of your browser, a logo for a renowned security brand, and an URL that begins with "https".
Create a new email address for shopping only. Your order updates, newsletters, and marketing junk will arrive here, so you'll only need to check in occasionally.

Look for the check-box that lets you opt-out from information sharing. Companies which intend to pass on your personal information are obliged to ask your permission. However, sometimes they will display a box which has already been checked they're just waiting for you to miss it and click 'ok'. Make sure you find that box, and uncheck it!
When the shop asks you to create a password, think of something that's a combination of letters or numbers – not an easy word like a name or month. Keep a selection of passwords ONLY for online shopping (so your bank and email passwords are completely different).
Pay with a credit, not debit, card. The insurance is better – your credit company will investigate and protect you against any unexpected transactions or losses.