Making a Data Protection Act Enquiry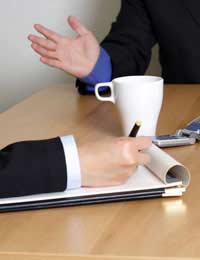 The Freedom of Information Act is a piece of UK law which came into force in 2005. It allows anyone to request access to official information. You can ask for this information from any public body, and you can ask for it on your own behalf, or as part of an organisation.
Who Can I Request Information From?
The main places you are likely to request information from are; Government departments (either central or local), the NHS, Educational bodies like schools, colleges and universities, the police force and non-departmental public bodies, committees or advisory bodies.
In theory, you can ask absolutely anything - but depending on what you're asking, you might find that the public body keeps some information back for various reasons that the Act allows them to. They can't just refuse to tell you something, however, they must give you a reason for it. You can also appeal the decision to withhold information.
Information About You
Asking for any information that a public body has on you isn't handled by the Freedom of Information Act, it's covered by the Data Protection Act. Your rights to find out about information held on you are slightly different, there are different fee scales and fees apply and they have longer to respond to a request under the Data Protection Act.
What Should I Do?
Absolutely anybody is entitled to make a request. All you have to do if you want to make a formal request for information under the Freedom of Information Act is to send it in writing (and email is perfectly acceptable) to the public authority that you are asking for the information from. Include:
your name
Your contact address
a full description of the information you are looking for.
You don't even have to mention the Freedom of Information Act, unless you want to. Your request will be treated as if it is anyway.
Describe the information you are looking for in detail – don't just ask for 'all the information you have on record about the proposed housing development' but be specific. Try asking for 'minutes of meetings where the housing development was discussed' or 'records of any objections to the planning application for the housing development'. This means you won't receive information that you don't want and ensures you will get your information with fewer delays.
Timescales and Charges
By law, a public body has to respond to any your request promptly, and has to provide the information you've asked for within 20 working days. If they feel that they need longer to find out what you've asked, they are obliged to write and tell you when they will be able to answer your enquiry, and the reasons for the delay.
Most Freedom of Information Act requests are answered free of charge, although if you have asked for a lot of information you could be asked to pay towards photocopying or postage. .Sometimes, if finding and preparing the information is likely to cost the public body more than £450 (or £600 in the case of a request to a central government department) they might have to refuse your request. You can always try again by narrowing down the exact information you're asking for.
Asking for Information About Other People
If you ask for information that refers to people, you will only be able to have it if the request doesn't breach anyone's rights under the Data Protection Act.
If it's considered to be unfair to give the information to you, your request will be refused. The same applies if you are asking for information that the person you are asking about would not be entitled to receive, you won't get that either.
If you know that the person you are asking about would have no problems with the public body sharing their information, ask them to write to the organisation you're asking for the information from, and confirm that they consent to their personal information being disclosed to you.
You might also like...
tried using the data protection act at the LONDON SOCIETY OF RUGBY REFEREESwho wrote and circulated 14 pages of unsavoury emails about myself . After 22 days they have failed to respond or reply to any emails
sticky
- 16-Oct-13 @ 1:22 PM